This insightful video changes our perception of water (both within ourselves and outside of ourselves) and see the message it is sending. It is very clear that the quality of our water is directly connected to human life and our experiences.
This brings greater understanding of Biodynamic Craniosacral Therapy and it profound effects on the human body which comprises of 75% water.
===========================================================
The importance of keeping our Friday, 15th March 2013

children safe and resilient to trauma and stress
This important research was posted in Neuron News in 2012, but I just became aware of it today.
Those who know me and my craniosacral work understand that I place
a great amount of emphasis on the critical impact early relationships have on the developing brain. Of course I am thrilled to share with you this exciting research findings.
It is important for everyone, especially parents to know that when children are stressed in early childhood they become stressful adults. Therefore please keep your children safe and resilient to trauma and stress.
Mom's love good for the brain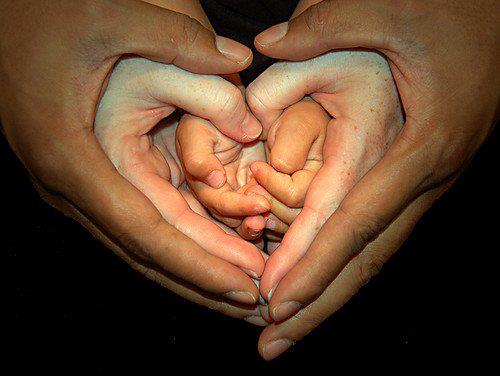 School-age children whose mothers nurtured them early in life have brains with a larger hippocampus, a key structure important to learning, memory and response to stress.
The new research, by child psychiatrists and neuroscientists at Washington University School of Medicine in St. Louis, is the first to show that changes in this critical region of children's brain anatomy are linked to a mother's nurturing.
Their research is published online in theProceedings of the National Academy of SciencesEarly Edition.
"This study validates something that seems to be intuitive, which is just how important nurturing parents are to creating adaptive human beings," says lead author Joan L. Luby, MD, professor of child psychiatry. "I think the public health implications suggest that we should pay more attention to parents' nurturing, and we should do what we can as a society to foster these skills because clearly nurturing has a very, very big impact on later development."
===============================================================================

Leg up and hands up Friday, 19th October 2012

This is Lily. Although this is not her real name, she has given me permission to share her story so as to give hope to those who become paralysed because of strokes. Where there is a will there is a way. She has been having craniosacral since 2010.
I am a volunteer at the Metta Day Rehabilitation Centre for the Elderly giving Biodynamic Craniosacral Therapy sessions.
When Lily first came for treatments she was in a wheelchair. She had a stroke two years earlier and have been coming to Metta for rehab. She was shy and had difficulties standing up and walking without assistance. She does not want to talk as her speech was slurred. Lily was a very active person before her illness and because of her disabilities she sometimes became depressed and emotional.
Lily loved her first BCST session that she kept coming for more sessions weekly. I encouraged her to talk as I tend to dialogue during treatment. Eventhough at times I do not understand her answer and she seemed frustrated as she could not cognitively form words and sentences, I kept encouraging her to make more sound eventhough others do no understand what she is saying. I told her practice makes perfect. As it turned out Lily is a perfect patient anyone could ask for.
She came for sessions without fail. She would also give me feedbacks. She began to have more confident in herself and began to walk more, with the assistance of a cane. No more holding on to a helper. I taught her some legs and arms resistance exercises and taught her to crawl like a baby to give stability to her hips. I read one article about this and Lily had agreed to give this a try. Learn to crawl first, then to walk! I could tell that she has been doing those exercises regularly. Each time Lily came for her BCST treatment, I could see that she is making good progress. Her speech also improved.
Three weeks ago, Lily was excited and she showed me that she could now raise her right leg and her right arm. This is the side of her body that was paralysed when she had her stroke some years ago.

==============================================================================================
Toddler's tantrum Tuesday, 16 October 2012
The rest of JJ's BCST session went smoothly. He lay down and fall asleep blissfully mid way during session.
I had an interesting BCST session with a 2 year old toddler, JJ whom I have been treating since he was a baby. Recently he discovered that I have a box full of toys. Today he came in and went straight to the toy box to pick out his favourite toys to play with during session. This time around he picked two new toys and proceeded to my treatment room. After 5 minutes he decided he did not want to play with these toys and wanted to go out of the room to get different toys. Each time when he did not get his way he will cry and scream. He kept doing this 3 times. His mom could not persuade him to stay still. At the 3rd time, he was having his usual toys of cars and a bus. However, he was not happy with his choice and wanted to go out again to change toys. I decided to not allow him to do this. And what did JJ do? He cried and screamed. He stood by the door and cried. His mom was getting frustrated.I decided to try Dr. Harvey Karp's technique as mentioned in his book The Happiest Toddler On The Block

http://www.youtube.com/watch?NR=1&v=-HQz4nOsqyg&feature=endscreen

and it worked like magic. I acknowledged his screaming of wanting to go out to change his toys and then saying that it is cranio time. It took me about 30 seconds to calm down. He looked me in the eyes and instantly knew that he had to return to his mat and lie down. His mum was amazed that her son could calm down so easily.
============================================================
Working with trust, Being Still and Knowing September 18, 2012
With all my training and over 10 years of working experience did not prepare me for working with a lovely 11 year old boy who is in a coma. I am humbled by this experience and have increased faith in love and compassion without boundaries. For this article I will name this boy JL.
According to JL's parents he had a fever just before Christmas last year. The fever was very high only during the night and after two consecutive nights of high fever he developed convulsions. Mother took him to the hospital and while he was there he had seizures and the doctors advised JL's mum that they would put him in a coma to help stop the seizures. They did this and until today JL remains in a coma and he has been diagnosed as clinically brain stem dead http://www.nhs.uk/Conditions/Brain-death/Pages/Introduction.aspx.
I have been working on JL since April 2012. I have not worked on a coma patient before, hence I was a very nervous because I did not want to bring false hope to his parents and family. I see myself as a Biodynamic Craniosacral Therapy facilitator and not a healer. I really did not know where to begin. At the back of my mind this nagging thought that JL is clinically dead and yet he is breathing through a ventilator. When I first make contact with JL I kept my intention to his Breath of Life. I figured as long as he is alive (even though technically he is breathing through the ventilator) and his tissues express Breath of Life I was going to focus on the health within him.
It was a big challenge on me to work on JL in the ICU ward with all the machines and gadgets attached to him. And while I was working, I was surrounded by nurses who kept a close watch on JL and the readings on his machines. It was quite difficult to stay in a state of balance awareness and stillness, but I did my best.
There was little motion upon contact. I could not even detect any Primary Respiration, only lots of heat beneath my hands locally. What was I thinking? I guess the "never give up attitude" I have in life gave me strength to go on treating JL. While he was in the ICU I worked on him daily until he was moved to a hospice. The doctors could not do anything anymore.
There was a glimmer of hope. JL is breathing through a ventilator, his breathing rate and heart rate remained strong and stable. There is no congestion in his lungs and JL has a few bed sores on his elbows and some rashes on his back. I think this is a good sign.
At the hospice, most of the time while I was working on JL, there would be Christian volunteers coming to visit him and praying for him. Once while I was working on JL, 2 Buddhist monks came and sat by JL's bed chanting for his speedy recovery and wellness.
Now I am giving JL BCST treatments twice a week. His Primary Respiration has improved. There is motility and potency. Yesterday I sensed a faint Cranial Rhythmic Impulse and presence. I do not know how long I can keep this up and how much longer I can commit. I pray Allah gives me the strength to not give up.
It has been a journey of hope and complete trust of the unknown for me working with JL. I can't figure out whether it is stupidity, denial or just having faith that God is the Universal energy.
Will JL wake up soon? Nobody knows. We are all hopeful for the best.
===============================================================
Working with Pregnant Women and New Mothers Monday, 11 June 2012
Pregnancy, birth and early life are profound and formative times. What babies experience during conception and birth can become imprinted early in life and these experiences could affect their full development and potential as they mature.
My Experience Working with Pregnant Women and New Mothers
I have worked with a number of mothers who said that the birth was wonderful. However, when I started working with them and their babies it became clear that most of
mothers might still be holding some left over issues around their pregnancy and their babies.
* Some of these issues are:
* stressed at work during pregnancy
* those with previous miscarriages fear that they may miscarry,
* anxiety of pregnancy
* anxiety of becoming a new mother
After birth they may also carry the disappointment that the birth process did not go the way they had planned and envisioned, like not wanting epidural but had to get one due to the overwhelmed pain, birth had to be assisted through forceps or caesareans, etc.
Biodynamic Craniosacral Therapy is a hands-on therapy. Unlike massage, which works on 8% of the body system, Biodynamic Craniosacral Therapy works on 92% of our body system. This is because Biodynamic Craniosacral extends to all the fluid sub-compartments (intracellular fluids, extracellular fluids like blood plasma and interstitial fluid, and transcellular fluid in organs – gastrointestinal, cerebrospinal, peritoneal and ocular) as one entity called the fluid body.
A well-known osteopath, Andrew Taylor Still (the father of osteopathic medicine) says:
"To find Health should be the object of the physician. Anyone can find disease."
In Biodynamic Craniosacral Therapy, we as practitioners, orientate to health in our body system.
Is there potency, the vibrancy and strength in the flow of energy,
Is there motility, movement within structures of the body,
Is there fluid tidal rhythm, as well as tissue tensile field flow (the circulatory flow of the fluid body mentioned above) ?
The emphasis in Biodynamic Craniosacral Therapy is to help resolve the trapped forces that underlie and govern patterns of disease and fragmentation in both body and mind. The intention of treatment is to facilitate the expression of the Breath of Life, thereby allowing the body to self-regulate.
In our body, all healthy, living tissues subtly 'breathe' with the motion of life - a phenomenon that produces rhythmic impulses. The presence of these subtle rhythms in the body was discovered by osteopath Dr William Sutherland over 100 years ago after a remarkable insight he had while examining the specialised articulations of cranial bones. He demonstrated the existence of this motion and eventually concluded it is produced by the body's inherent life force, which he referred to as the Breath of Life.
During the course of our lives our bodies become conditioned according to how we cope with stress. If we are unable to dissipate the effect of these experiences, they become locked in the body as sites of inertia where nothing is moving- until a time that we become able to process and resolve them. These sites of inertia compromise the natural rhythmical movements of the Breath of Life, leading to a sense of fragmentation and hindering the ability of our essential health to manifest at a cellular level.
When we are stressed, we become alert; your body responds by activating the nervous system and releasing a flood of stress hormones, including adrenaline and cortisol. We call this a hyperarousal state. These hormones prepare the body for emergency action, our heart beats faster, muscles tighten, blood pressure increases, breath quickens, and our senses become sharper. These physical changes increase our strength and stamina, speed our reaction time, and enhance our focus – preparing us to either fight or flight from the danger at hand.
Here are some early signs and symptoms of stress

Cognitive Symptoms

Emotional Symptoms

Poor memory and forgetful

Poor concentration

Poor judgment

Seeing only the negative

Anxious or racing thoughts

Anxiety

Moodiness

Irritability or short temper

Agitation, inability to relax

Feeling overwhelmed

Sense of loneliness and isolation

Depression or general unhappiness

Physical Symptoms

Behavioural Symptoms

Aches and pains

Diarrhea or constipation

Giddiness, dizziness and nausea

Chest pain, rapid heartbeat

Loss of sex drive

Frequent colds and cough

Eating more or less

Poor sleeping patterns

Procrastinating

Consuming alcohol, cigarettes, or drugs to relax

Nervous habits (e.g. nail biting, pacing)
The relaxation response kicks in when we perceive the danger is over, and our autonomic nervous system functioning returns to normal. During this response, the body moves from a state of physiological arousal (stated above), to a state of relaxation, where blood pressure, heart rate, digestive functioning and hormonal levels return to their normal state.
However, in times of chronic stress, when we are in a constant state of physiological arousal over perceived threats that are numerous and not life-threatening, our body is unable to trigger the relaxation response. Biodynamic Craniosacral Therapy can help our body to self-regulate and brings us to a state of relaxation response.
Prenatal Biodynamic Craniosacral Therapy is an excellent way for a pregnant woman to get in touch with her body and growing baby. Sessions may relieve physical and emotional stress thereby making you more physically ready for labour and prepare you mentally and emotionally for motherhood.
I had a client, Ann (name changed for confidential reasons) from Abu Dhabi who was 7 months pregnant. She came in Singapore to give birth so that she could receive support from her family. Fortunately for Ann, before she moved to Abu Dhabi, she has had biodynamic craniosacral therapy sessions with my colleague in England where she was originally from. She told me that she and her husband were trying for many years to have a baby, but their successful career and fast paced lifestyle caused them lots of anxiety and stress. She then heard of Biodynamic Craniosacral, went and had several sessions in England. She said my colleague and Biodynamic Craniosacral sessions helped her body to be in an optimum state thus enabling her to conceive a baby. She was happy to have found me in Singapore so that she would be able to continue with this therapy to prepare herself mentally as well as physically for birth. Her baby was in a breech position which caused her much anxiety as her obstetrician had advised birth via caesarean. With the treatments, Ann was able to remain calm and relax during the last few weeks of pregnancy. She was able to sleep well as there was less pain and ache in her lower back. Fortunately for Ann her lower back muscles and pelvic floor muscles decompressed and unwind its tension, thereby her baby repositioned herself before birth. Ann gave birth naturally with little intervention and without complications to a baby girl last June.
A woman experiences dramatic changes in her body during pregnancy. I saw Jennifer when she was around 7 months pregnant. She was not sleeping well and was suffering from pelvic pain. This is a frequent complaint amongst pregnant women. The weight of the growing baby can put a strain on the spine. Biodynamic Craniosacral Therapy encourages fluid flow to the spine, sacrum and surrounding tissues, hence allowing the muscles and ligaments to relax. This in turn will allow the spine to relax and release the compression and tension around the nerves thereby releasing the impinged nerves that cause pain in the lower back and pelvis. After two sessions, Jennifer was able to sleep with ease and pain free.
-------------------------------------------------------------------------------------------------------
My Experience Working with Babies
Babies love this light touch. When working with babies we work with mother and baby as one unit.
Many babies experience strong compressive forces during birth, which can cause a contraction within their system. This can manifest as shock and trauma, leading to a myriad of conditions, if not being treated, can lead to significant lifelong health issues. The wisdom of dealing with any trauma experienced during birth, as soon as possible after birth, is obvious.
Conditions of the babies with tremendous stress are.
Breastfeeding difficulties
Colic
Reflux
Constipation

Sleep issues
Distress/crying
Difficulty settling
Irregular head shape

Shock/overwhelm or discomfort resulting from:

Premature birth
Caesarean birth

Assisted birth
Separation from parents
Being in the state of joy and relaxation can be a challenge for some especially during the critical stages of pregnancy through birth and beyond for the expectant mothers and babies and mothers handling the newborn babies. Never do we realize that the impact stress has on our mental, emotional and physical health. The thought of getting help early can determine the effectiveness of the treatment.
The objective of this post is to make known to people especially those who are trying to have babies, pregnant and after birth and babies an options that there is such a treatment available. Women in need can get help to settle their nervous system and bring it back to balance. Babies are particularly vulnerable during their birth into this unfamiliar world. Early treatment can help them grow and expand their potential, provide a good head start in life.
===========================================================
Ignition and Primal Midline Friday 24th February 2012
This morning I was working on a 40 year old woman with lower back pain. I started at the feet. At first the body was fragmented and after a while there was holistic shift. Sacrum showed and there was tightness at the sacrum and pelvis, inertia at the left SI joint. Client said that her right hip was tight and painful. I stayed at the sacrum throughout the session. Potency increased and there was pulsing at the right SI joint. After sometime there was a swirling of energy at the sacrum, and a buildup of potency and heat. It felt like ignition as there was a surge of potency along the primal midline and went right up to the frontal area. There was lateral expansion of tissues at the shoulders, neck and base of the occiput.
After a state of balance, the system settled and dropped into dynamic stillness. There was reorganisation at the sacrum and the lumbar. The whole spine lengthened and primary respiration was in longtide at the end of the session.
I shared the above with Simon Gosling and this is his comments.
This session to me seems like an example of the old maxim 'less is more' in action/ Being at the feet and sacrum only, not getting pulled into the drama/trauma of the lower back pain, acknowledging but not following the tissues. When the shift happened you experienced the usual left/right balance thing of pelvic dynamics i.e. that pain is often on the opposite side to the area of inertia and it's all about recreating balance (or allowing it to assert itself as the body will do its best to do this anyway)
As to the ignition at the sacrum well it happens from there as well as anywhere. One way to see this is to look at ignition as a 'spark' that is taken up by the system bringing increased potency to the whole. In this case it was, you felt along the primal midline, arising from the sacrum. It would be fair to say that most ignitions along the primal midline begin at the sacrum because in a sense they are the body remembering the initial embryonic surge that created primitive streak, primitive pit and notochord. The only vestigial remains we have left in our body are in the notochord, the nucleus pulposa, so this surge from coccyx/sacrum to glabella is what we feel. This is why Franklyn writes that our embryology exists and is recreating itself in every moment of our lives.
Of course ignitions can and do happen at other places, there is a particular quality to conception, implantation, heart, third ventricle and umbilical/birth ignitions. Often what tells you which ignition there has been in a client is the client themselves as they report back with feelings about……..that have changed. But in this case you were able to witness it, always very special. Another way of 'authenticating' the ignition experience is when you experienced DS after/with the ignition and the clients also showed the long tide as all ignitions are a re-sourcing, a return to origins, a revisiting to the primal matrix somehow reestablishing the original blueprint that was laid down in the embryo before form and around which form solidified.