Juicing helps my husband recover from Lymphoma

When my husband was diagnosed with lymphoma cancer in September 2016 I started him on juicing. This the recipe:

Beetroot 1 whole bulb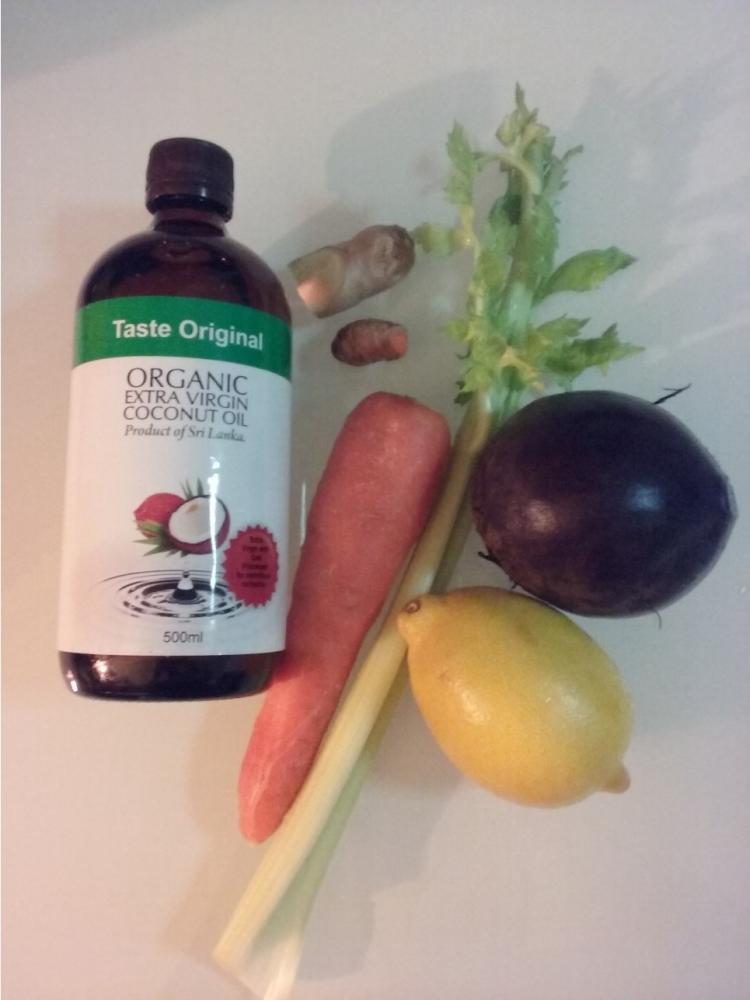 Ginger about the size of your thumb
Lemon 1 whole lemon with skin
Carrot 1 whole
Celery 1 stalk
Tumeric 1 cm size
Coconut Oil 1 tablespoon



This recipe makes enough for one serving. It sounds like a lot, but once they are juiced, it's only about 10-12 ounces of liquid or so. The carrot makes the juice even sweeter. When you add turmeric you need to be careful that you are not taking medication like blood thinner.




After my husband was diagnosed to have a blood clot in his right arm (where the doctors put in the PICC line for his chemo and was removed), and he was given medication to dissolve the blood clot, and I remove turmeric from his juice.





Benefits of juicing
I observed that my husband did not have much side effects of his chemo. The doctors gave me a list of possible side effects of chemotherapy to look out for.
Mouth sores
Hair loss
Diarrhoea
Nausea and vomiting
Low blood cell counts

Fortunately my husband did not suffer from any of the above side effects except for diarrhoea after his first chemo. I gave him Doterra probiotics and his diarrhoea went away.

His doctors were concerned about his blood counts, especially the haemoglobin and white blood cells. After his second chemo, he was given blood transfusion as his doctors was afraid his blood counts would drop. This did not happen and with his regular intake of the above juice, his blood counts went up a point. After his third chemo, he went through blood tests every 3 days and everything went well and he did not need to have any blood transfusion.
Wellness Integrated is strictly a news and information website about Craniosacral Therapy. We do not provide medical advice nor diagnosis. This content is not intended to be a substitute for professional medical advice, diagnosis, or treatment. Always seek the advice of your physician or other qualified health provider with any questions you may have regarding a medical condition. Never disregard professional medical advice or delay in seeking it because of something you have read on this website.
Biodynamic Craniosacral Therapy is a gentle and subtle whole body approach that releases tensions deep in the Central Nervous System so that every other systems in our body can relax and self correct, free itself of pain and other health issues.
"Each of us has an innate capacity for healing, to heal ourselves, to heal others and to help others heal themselves" - Subagh Singh Khalsa
Sometimes we need a little bit of help and Biodynamic Craniosacral Therapy could be just that.
To book a session please call Adida at 97426791. Thank you.